Romans 3:21 – Baptism is like the Law!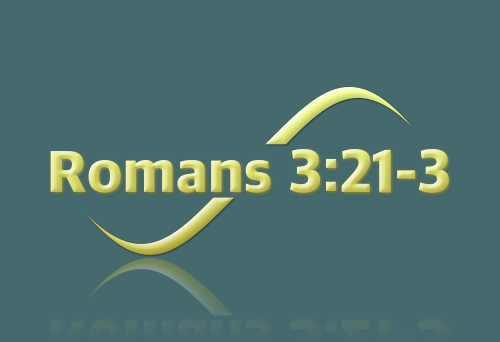 Here's our next anti-baptism proof text.
Romans 3:21-30
But now a righteousness from God, apart from law, has been made known, to which the Law and the Prophets testify. This righteousness from God comes through faith in Jesus Christ to all who believe. There is no difference, for all have sinned and fall short of the glory of God, and are justified freely by his grace through the redemption that came by Christ Jesus.
This is Paul explaining why the Old Testament Law is no longer effective or necessary. It's a long passage, so hang in there.
God presented him as a sacrifice of atonement, through faith in his blood. He did this to demonstrate his justice, because in his forbearance he had left the sins committed beforehand unpunished — he did it to demonstrate his justice at the present time, so as to be just and the one who justifies those who have faith in Jesus.
Where, then, is boasting? It is excluded. On what principle? On that of observing the law? No, but on that of faith.
For we maintain that a man is justified by faith apart from observing the law. Is God the God of Jews only? Is he not the God of Gentiles too? Yes, of Gentiles too, since there is only one God, who will justify the circumcised by faith and the uncircumcised through that same faith.
There are two basic assertions made in this scripture. This scripture tells us that salvation under the New Covenant is through faith and belief in Jesus and how we can not be saved by following the Old Testament Law.
A Radical New Teaching!
For the Jews of the Roman World, this would have been a radical new concept! Paul is telling them, the Law can't save you, only this new thing… a faith in Christ can save you.
These are the only conclusions we should draw form this scripture. This is its purpose, to introduce Jews to God's new of entering a relationship with Him. We must have faith in Jesus Christ.
Like the other scriptures we have looked at, this scripture has nothing to do with baptism. The evangelical argument is once again designed to corral this scripture and make me believe it is about baptism. And, once again, I have to also believe that "all" that is required for my response to the Gospel is faith and belief.
Continue reading

"Anti-Baptism Scriptures – Part 4"
Podcast: Play in new window | Download | Embed
Subscribe to the Podcast Apple Podcasts | Android | Email | Google Podcasts | Stitcher | RSS