A Most Misused Scripture
John 1:12
Yet to all who received him, to those who believed in his name, he gave the right to become children of God–children born not of natural descent, nor of human decision or a husband's will, but born of God.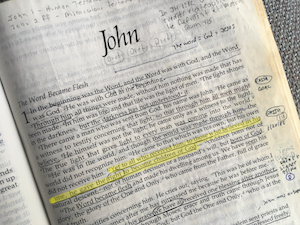 This passage of scripture is used by the evangelical church to demonstrate that a person becomes a Christian when they accept Christ for the first time. A popular metaphorical formula was developed, probably in the 60's to help people remember this plan of salvation. It reads like this: "Believe + Receive = Become." In other words, if you believe in Christ and you receive Christ, you become a Christian. The problem is, this formula is wrong.
Grammar 101 – Verbs
The verb is not "become," it is "gave." When you believe and receive, God gives you something. He gives you the "right" to become. We don't "become" anything upon our decision to receive the message with an open heart. While it may be true that God gives us a new gift, the "right to become his child," this is not yet salvation!
The problem with this form of teaching lies in the conclusion it offers. The conclusion the Evangelical world presents is that a person is saved when they receive Christ. This is wrong; dangerously wrong.
The Wrong Path
When a person is taught they become a Christian when they first believe and receive, it sets them on a false path to Heaven. Just think about it. If I follow this unbiblical practice and believe I am saved at the time of my acceptance there is no point in a variety of other commands Jesus gave his disciples which always precede the forgiveness of sins. Because I believe I am already a Christian, what is the point of confession, repentance and baptism, all of which precede the forgiveness of sins and the gift of the Holy Spirit, when we look at those issues in the Bible.
Following this incomplete pattern does not lead to salvation. Yet this pattern is presented, practice and promoted, with vigor, by most Evangelicals today. It bears a striking resemblance to a pattern Jesus identified in his own ministry. Take a look.
Continue reading "006-John 1:12 – A Most Misused Scripture"
Podcast: Play in new window | Download | Embed
Subscribe to the Podcast Apple Podcasts | Android | Email | Google Podcasts | Stitcher | RSS