That's a Funny Sounding Word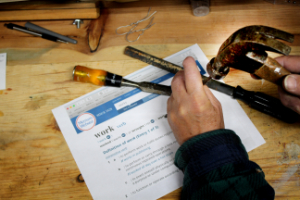 Works, that's a funny sounding word when you just say it out loud.
Works!
This little word can have a variety of meanings.
A computer "works," meaning it operates.
A municipality has public "works," the infrastructure, built to support the smooth operation of a community.
A person "works," meaning they put forth labor to produce something.
A religious person might perform good "works" or good "deeds," meaning they are performing a religious activity or action for the purpose of pleasing God.
The Go-To Word!
When we have that debate about God's requirement that a person must be baptized to be saved, it is often to this word, "works," the argument turns. The anti-baptists say, "Man cannot be saved by works."
I can't argue with that statement.
They are correct because the Bible teaches, "Man cannot be saved by works."
Surprisingly, both the anti-baptism folks and the folks who believe that baptism is indeed necessary for salvation agree on this point. We cannot be saved by works… so, what's the problem?
The problem is we have not defined the meaning of the word, "works."
What is a "work?"
Well, it depends on the "word use." You know how the word is being used. This depends heavily on the context of where and how the word is being used.
If we are using the word "work" to refer to a "good deed" someone does in order to gain favor with God, that's a different "word use" than if we say, "We are working FOR God" as God commands us to do.
Is Prayer a Work?
For example, when Jesus says, "Love your enemies and pray for those who persecute you." We don't consider his instructions to mean we are to perform some kind of good deeds kind of work. We see his instructions and we are obligated to obey, to the best of our ability. In this case we might say to a friend, "I have really been working in prayer for you."
Click here to read the rest of this post.
Podcast: Play in new window | Download (Duration: 16:32 — 5.7MB) | Embed
Subscribe to the Podcast Google Podcasts | Stitcher | Email | RSS | More