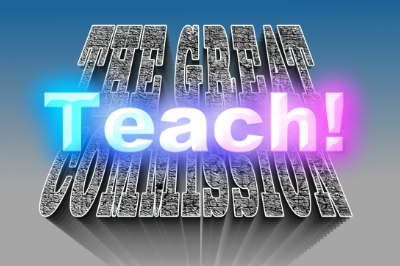 The fourth command of The Great Commission is, in its complete sentence form, "Teach them to obey everything I have commanded you." In my mind, this is the most amazing part of the Great Commission. It is absolutely brilliant.
In adding this fourth command to the other three commands of The Great Commission, Jesus has just insured that the Biblical Plan of Salvation will continue on throughout all generations. Let's break it down and see what else we can discover.
Discovery
The first word is, "teach." This means sending information, passing knowledge, communicating enlightenment. It's a drawing toward knowledge and wisdom.
Now, carefully notice. The apostles were not told to "teach the people everything." They were told, "Teach them to 'obey' everything." This is interesting. Jesus introduces obedience. Obedience is a response and it is always intrinsically linked to a command. Without a command, there is nothing to obey. This is why we say, "The Great Commission must be obeyed." There are a series of commands contained in it. As a result, obedience becomes a critical part of the salvation experience because, the scriptures elsewhere teach us that we can not have a relationship with God, if we are unwilling to obey him. More about that in a moment.
Now, obviously… the things Jesus is commanding us to obey extend way beyond the first three commands of The Great Commission. He said, "Teach them to obey everything, I have commanded you."
Obey Everything?
That's a mighty tall order, wouldn't you say. What was he talking about? "Love your enemies?" "Love your neighbor as yourself?" "Seek first the Kingdom?" "Give?" Yes, yes, yes and yes. But, in the context of The Great Commission, we must ask, "What has he just taught the apostles to obey?" Well… the first three commands! Go, make and baptize!
When Jesus says, "Teach them to obey everything," that by definition, includes everything he has just finished saying. And, they should teach it exactly the same way he taught them. No one has ever been given a license or the authority to change anything in the Biblical Plan of Salvation.
Have you ever played the game "Telephone?" It's a fun game, even for adults. The game is played by getting 15 or 20 other people together. The leader whispers a fairly complex sentence into the first person's ear. The first person then whispers it into the second person's ear and the message gets passed on from mouth to ear for twenty generations. It can be quite hilarious when we hear the final presentation of the original sentence. Things can really change and get messed up! When a message gets passed down from generation to generation people have a tendency to change things. But this process can't happen with The Great Commission because we have the instructions… the original message… clearly presented in the New Testament.
Click here to read the rest of this post.
Podcast: Play in new window | Download (Duration: 13:22 — 11.6MB) | Embed
Subscribe to the Podcast Google Podcasts | Stitcher | Email | RSS | More