Important Note:
Don't miss the first two articles leading up to this one for a much deeper study. Read the first one HERE and read the second one HERE.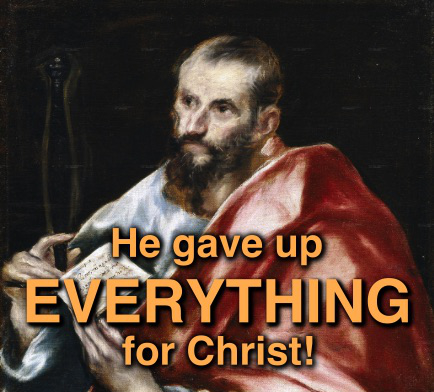 In our last two podcasts, we dove into the possibility that the Apostle Paul is the Rich Young Ruler. In this podcast, I want to take what we have discovered so far and apply some analysis and logic.
If you are like me, for some reason we have a little blind spot regarding the Apostle Paul. I have always seen Paul's life as sorta-kinda beginning at the stoning of Stephen. I have never really spent much time considering the glaring fact of his existence prior to his dramatic appearance at Stephen's death. When we play the timeline of Paul's life backward, we begin to see his place in a historical context of that day. He did not just poof into existence at the martyrdom of Stephen. He had a life before that time and I think, during that time, we call him The Rich Young Ruler. Let's review the astonishing similarities which lead us to that conclusion.
Incredible Similarities
Both Paul and The Rich Young Ruler are men. Both were young at the time we first meet them. Both are Jewish. Both are rulers. Both knew the commandments. Both kept all the commandments from birth. Both claim a faultless and blameless life. Both were zealous for the law. Both were wealthy. Both struggled with covetousness. Both were loved by Christ. Both were told to "come follow me." It took a direct intervention by God to make it all happen, just as Jesus said it would regarding the Rich Young Ruler, and we see that miraculous event happen to Saul on the road to Damascus. We also have the statement by Jesus that the Rich Young Ruler would be in a position of "last" compared to the Apostles and Paul is the last Apostle appointed by Christ.
Saul has a life history. We miss that.
Through Paul's own testimony, we know that he was raised in Jerusalem and studied under Gamaliel. His studies led him to his commission as a Pharisee. He was a star pupil! He advanced quicker and better than young men of his own age. He was a super achiever. We know he was in Jerusalem growing up, and we know he was in Jerusalem at the time of Stephen's death. Where would he have been between those times? The same place! He would have been completing his studies and fulfilling his new duties as a Pharisee!
This means, Saul of Tarsus, a Pharisee, was most certainly aware of the ministry of Christ. He had to be! There is no reason to think that he was somehow sequestered in a back room of the temple writing a blog, or separated from the Jerusalem leadership in a foreign nation—completely unaware of what was happening back in Jerusalem. He was there!
Saul was there!
Regarding the activities and thinking of the Sadducees and Pharisees about Jesus, we have quite a bit of information. We know Caiaphas, Ananias, Nicodemus, Gamaliel and all the Sanhedrin kept a close watch on Christ's activities. As a Pharisee, Saul was part of the in crowd. Yet, we never hear Saul mentioned in the Gospels… but then again, we never see Gamaliel mentioned in the Gospels either; and he was a man of great influence during the days of Jesus ministry and into the church era. So Gamaliel was there too. After all, he could not have taught Saul if he was not in Jerusalem in the years prior to Acts 7 where we first meet Saul!
Click here to read the rest of this post.
Podcast: Play in new window | Download (Duration: 18:57 — 26.0MB) | Embed
Subscribe to the Podcast Google Podcasts | Stitcher | Email | RSS | More