Romans 3:21 – Baptism is like the Law!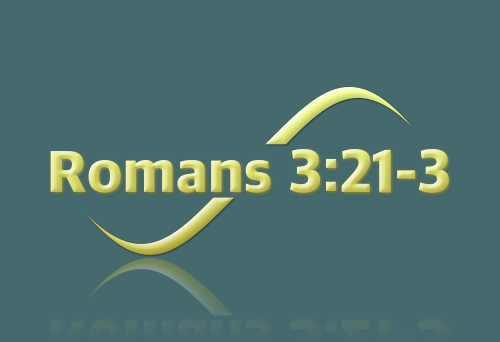 Here's our next anti-baptism proof text.
Romans 3:21-30
But now a righteousness from God, apart from law, has been made known, to which the Law and the Prophets testify. This righteousness from God comes through faith in Jesus Christ to all who believe. There is no difference, for all have sinned and fall short of the glory of God, and are justified freely by his grace through the redemption that came by Christ Jesus.
This is Paul explaining why the Old Testament Law is no longer effective or necessary. It's a long passage, so hang in there.
God presented him as a sacrifice of atonement, through faith in his blood. He did this to demonstrate his justice, because in his forbearance he had left the sins committed beforehand unpunished — he did it to demonstrate his justice at the present time, so as to be just and the one who justifies those who have faith in Jesus.
Where, then, is boasting? It is excluded. On what principle? On that of observing the law? No, but on that of faith.
For we maintain that a man is justified by faith apart from observing the law. Is God the God of Jews only? Is he not the God of Gentiles too? Yes, of Gentiles too, since there is only one God, who will justify the circumcised by faith and the uncircumcised through that same faith.
There are two basic assertions made in this scripture. This scripture tells us that salvation under the New Covenant is through faith and belief in Jesus and how we can not be saved by following the Old Testament Law.
A Radical New Teaching!
For the Jews of the Roman World, this would have been a radical new concept! Paul is telling them, the Law can't save you, only this new thing… a faith in Christ can save you.
These are the only conclusions we should draw form this scripture. This is its purpose, to introduce Jews to God's new of entering a relationship with Him. We must have faith in Jesus Christ.
Like the other scriptures we have looked at, this scripture has nothing to do with baptism. The evangelical argument is once again designed to corral this scripture and make me believe it is about baptism. And, once again, I have to also believe that "all" that is required for my response to the Gospel is faith and belief.
Rituals of the New Testament
Now, it gets a bit more interesting. The use of this passage as an anti-baptism proof text, introduces a new error in reasoning which goes a little bit further than labeling baptism as a human work or asking me to buy into the "all/only" error.
This argument also asks us to agree that baptism is a ritual. To arrive at that conclusion, we must equate baptism with the Law Why is this significant? Because the Law was ceremonial. It had no power to save. It was full of rules and regulations, ordinances and rituals. Evangelicals believe Baptism, is nothing more than a ceremonial event and has nothing to do with the conversion process.
This line of thinking is responsible for the creation of another popular saying designed to deny the scriptural purpose of baptism. You have probably heard it. Evangelicals claim, "Baptism is an outward sign of an inward grace." Neither this statement nor this concept is not found in the New Testament.
Baptism is not a ritual, it is not a sign, it is not a ceremony. But this scripture, and some others, are often used to equate baptism with the Law. There is no connection. But, let's dig into their reasoning a bit.
The reasoning goes like this:
Baptism is a ritual like the Old Testament rituals.
The rituals of the Law could not save you.
Therefore baptism can not save you.
The first premise is not true. Baptism is not a ritual.
The second premise is true. The law does not save people, it leads them to Christ, who can save them. Because our initial premise is wrong, we arrive at a wrong conclusion. This reasoning attempts to associate baptism with the Law but the New Testament never makes any association between these two things. This particular error in reasoning will be seen again in the review of other scriptures so be watching for it.
Now, there is another interesting problem which crops up when we label baptism as a ritual…
The New Testament is completely devoid of rituals! There aren't any. Not one! Even the Lord's Supper is not a ritual and I pray you never let it become one.
Think back to the formation of the Church. Think back to Acts 2. What was life like for this amazing band of brothers, these new, first-time ever disciples? Acts 2:42 tells us. It was an amazing fellowship where people met together constantly, they broke bread and helped each other and they lived unselfish, righteous lives. In all of the New Testament narratives, we do not see rituals or ceremonies. We certainly do not see baptism or the Lord's Supper as rituals.
So, if today, we think baptism is a ritual… when and how did it become one?
An Outward Sign of an Inward Grace
Now let's talk about this "Outward sign of an inward grace." Why do we call baptism a "sign" or a "symbol" of something that is happening inside me? Baptism is not a symbol of anything.
Baptism is the reality of a person dying, being buried with Christ and raising to their new life. While there is much symbolism in the event, the event itself is not a symbol of anything. It is a reality.
Now, some of you will say, "No, Peter says baptism is a symbol in 1 Peter 3:21." We will dive into that scripture later but for now, we need to know that the the symbol in that scripture is Noah's Flood, not baptism. Peter tells us Noah's flood is a "symbol…" a foreshadowing of something else which would come in the future. Peter is not saying baptism is the symbol of the flood, it's the other way around. The Flood is a symbol of baptism. By the way, what did the flood do? It wiped away sin.
Baptism has always been an act of obedience to the Gospel message since it was introduced on the day of Pentecost! Peter preached and the people asked, "What shall we do?"
There is not one thing in the doctrines of the New Testament which any Apostle, Prophet, Evangelist or Teacher ever identifies or establishes as a new ritual or so called sacrament and there is never any suggestion that Christians should perform some new ritual established by Jesus or the Apostles.
The New Testament ushers in no new ceremonies and abandons all of the ceremony of the Old Testament. Baptism can not be a ceremony or ritual because the New Testament ended all ceremony.
Baptism is a command of Christ. We'd best obey it.
Finally, here's something to think about. If Baptism is an outward sign of and inward grace… how can we say there has been any inward grace… if there is no outward sign?
Some of these sayings sound really good on the surface but when we ask a couple of questions, we discover some critical flaws. "Baptism as an outward sign of an inward grace," doesn't work, does it? It is not effective. But obedience to the Gospel is, if we have a Faith that Obeys!
Enjoy!

Dana Haynes
Listen Now – Podcast 017 – Anti Baptism Scriptures – Part 3
Podcast: Play in new window | Download | Embed
Subscribe to the Podcast Apple Podcasts | Android | Email | Google Podcasts | Stitcher | RSS